---
Details

Written by

Super User

Category: Features
Historical Malacca Full-Day Tour from Kuala Lumpur including Lunch
Tour description provided by Viator
Explore the historic town of Malacca, a key port for trade between the East and the West with influences of former Asian and European rulers evident throughout this UNESCO World Heritage City. Your knowledgeable guide will share the historical and cultural significance of top sites including St Paul's Hill, St Paul's church, the Stadthuys, the fortress A'Famosa (Porta de Santiago), and Cheng Hoon Teng, Malaysia's oldest Chinese temple. You'll also enjoy a typical Malaysian lunch and a stroll along Jonker Street on this fascinating Malacca day trip from Kuala Lumpur.
After pickup from your Kuala Lumpur hotel, you'll travel approximately two hours south in a comfortable air-conditioned coach on a day trip to Malacca, the oldest trading port in Malaysia. On this Malacca day tour you'll learn from your expert guide how the Malay Sultanate, Portuguese, Dutch and English ruled in Malacca and you'll see evidence of their history in the picturesque buildings and narrow streets.First you'll visit Dutch Square (Stadthuys) to see the striking red 17th-century buildings that were once the offices of the Dutch governors.
Then, take a short walk up St Paul's Hill for a panoramic view of Malacca, the Malacca Strait and the old town center called Bandar Hilir. You'll see the ruins of St Paul's Church and note the intricately decorated 17th century Dutch tombstones that line the interior. After taking in the views from St Paul's Hill, stop into a local restaurant where you will savor a typical Nyonya lunch. When you're refreshed, you'll follow your guide to Jonker Street, also known as Antique Street, where you can browse through a plethora of antiques and clothing shops.
Then visit the A'Famosa fortress, built by the Portuguese in the 1500s and among the oldest surviving European architectural remains in Asia, of which only the Porta de Santiago survives. Your guide will make a final stop at Cheng Hoon Teng, the oldest traditional Chinese temple in Malaysia.If time permits on your return, your coach will make a photo stop at Morten Village for a glimpse of a typical Malay village. Your Malacca day tour from Kuala Lumpur ends with drop-off at your hotel.
What's included
Hotel pickup and drop-off
Professional english-speaking guide
Lunch
Entrance fees
Transport by air-conditioned vehicle
What isn't included
Drinks
Gratuities (optional)
Details

Written by

Super User

Category: Features
Organic Coffee is a coffee that is grown without using any synthetic fertilizers or pesticides, on a land that was given sufficient time to detoxify itself, without the aid of any genetically modified organisms and finally processed and packed without the involvement of any chemical.
Health Benefits: Organic Coffee is good for health (except for the caffeine in it) in the sense as it does not contain any toxic residues of synthetic fertilizers, pesticides, herbicides, artificial flavors or colors, or preservatives. Therefore, these harmful substances cannot enter your body, unlike the case of non-organic coffee wherein these toxic chemicals are present. That does not mean that Organic Coffee can be drunk in excessive quantities.
Other Benefits: The other benefits of Organic Coffee relate to the environment. Since no chemicals are used in its production, processing and packaging; it does not pollute the environment. There is also no risk of smaller animals like birds, rodents, or squirrels, etc. being poisoned and killed due to these toxic chemicals. Therefore, this coffee helps a lot to preserve the biotic environment and its healthy balance.
Processing: Organic Coffee is processed using dry milling or wet milling. Dry milling basically means separating beans from dried coffee berries. This drying, again, is done by machine drying or sun drying. Wet Milling is costly, lengthy and not environmentally friendly (uses a lot of fresh water to wash) unless it is applied to coffee beans, where no chemicals are involved. However, it is one of the surest ways of producing high-quality gourmet beans and big firms often use this method.
Roasting: Organic coffee roasters are used for sorting, roasting, cooling, stabilizing, and packing. Roasting of coffee can be done by drum roasting or hot air roasting.Organic coffee roasters take care that no chemical salts, gases, flavors or additives are added in this stage to influence the taste and flavor. Green Mountain Coffee Roasters and Dean's Beans Coffee Roasters are two trusted names who roast coffee.
Varieties
Organic Coffee is available in many varieties, based on the method of farming and its contribution towards the environment. Here are some of them:
Organic Shade-Grown Coffee: This variety is grown in the natural shade of tropical forests without clearing land for farming. Growth is slow, but the coffee is tastier and more flavored. The biggest benefit of this coffee is that no forests are cut down for this and, of course, no chemicals are used. It is richer in taste than its regular counterpart. There are a few varieties of Organic Shade-Grown Coffee, mainly named after their various styles of farming. They include organic rustic, organic traditional polyculture and organic specialized or reduced shade. It has less availability and hence priced higher than the other types of coffee.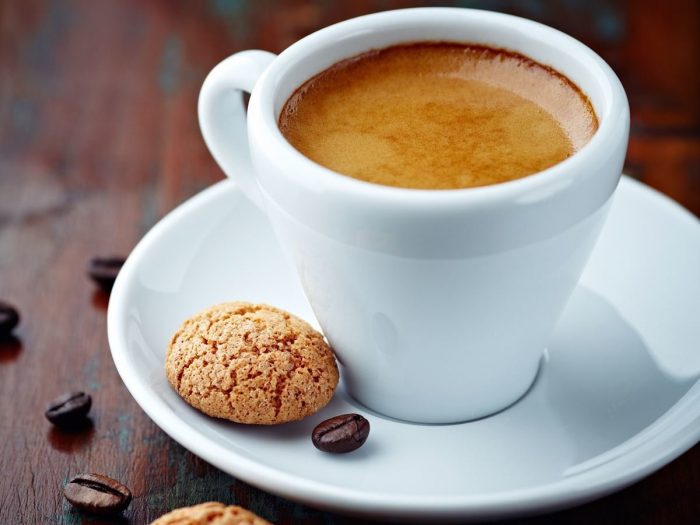 Organic Bird-Friendly Coffee: This is almost same as Organic Shade-Grown Coffee, with the difference that this is particularly concerned with preserving the natural habitat of birds.
Organic Kona Coffee: This Organic Kona Coffee is grown on fertile volcanic soil of the Kona region in Hawaii. Organic Kona Coffee is produced in farms that do not use chemical fertilizers and chemical pesticides. They are absolutely dependent on the fertility of the soil (enriched by volcanic ash and lava), organic fertilizers, and biotic pest control methods. It has a distinct taste and flavor due to the climate and soil in that region. While Organic Kona Coffee itself is a delicacy, the Pea-Berry variety is the best. Always look for the certificate for authenticity and "100% Organic Kona Coffee" on the packets. Many fraudsters will be trying to sell normal coffee under the Kona tag.
Organic Decaffeinated Coffee: The Organic Coffee which has the caffeine removed.
Organic Green Coffee:Organic Green Coffee is the Green Coffee that is obtained from coffee plants that are grown organically. This coffee is obtained from raw coffee beans which are not roasted. No chemicals are used in processing (fermentation/washing etc.). Taste of organic green coffee depends on good soil, right altitude, climate and processing.It is a rich source of antioxidants and contains Chlorogenic Acid, which is believed to be far more effective in neutralizing free radicals than the antioxidants in green tea. It boosts metabolism and the presence of caffeic acid helps energize the body after fatigue. Some varieties include Blue Mountain Cenaproc, Colonial Caranavi, Peaberry, Kenya AA, Tarrazu, Yirgacheffe, Antigua, and Altura.
Species of Coffee
The varieties discussed above also belong to certain species of coffee. The following are the two main cultivars of coffee, grown in different regions.
Coffea Arabica: This is the most widely used species. Almost all the coffee beans that come from Arabia, Eastern Africa, Asia, and Latin America belong to varieties that fall under this species categorization. People have their own opinions, but Arabica is considered far superior in quality to Robusta.
Coffea Canephora (Robusta): Varieties of this species are spread over the Central and Western Africa.
All the varieties of Organic Coffee mentioned above can be used in making Organic Espresso Coffee. Furthermore, when these varieties are purchased through a Fair Trade Organization, they are called Organic Fair Trade Coffee.
Details

Written by

Super User

Category: Features
SOULCARE - ABOUT US
I, Omar Botha, CEO & Healer of SOULCARE Group have put together a Dynamic, Holistic company that looks after the basic needs of people to create a healthy sustainable world for better Financial, Spiritual, Physical & Emotional Health.
Soulcare is a Group of companies focused on environmental awareness, healthy living, eating and lifestyle. Soulcare offers you the client various sustainable products that will satisfy your basic needs. We encourage the use of natural products and organic produce for a healthier and sustainable environment. The time has come to change the way we look at the future. We have seen so many examples of global climate change, floods, earthquakes and other natural disasters all due to pollution, unhealthy living and not taking into consideration the effects that our everyday lives and the decisions that we make on a daily basis, has on our planet.
Life is full of abundance -let's make a change for the better for us and for our future generations. Soulcare Kids, are offering you the client the best organic products for your kid's needs, food, clothing, bedding, toys and a lot more. Soulcare Food, supports organic farming and Healer Omar supplies daily information on nutrition and diet for better health and natural cures for various illnesses and pain. Did you know Prescription drugs cause side effects that look a lot like "aging". Most drugs cause major cellular damage. They attack the mitochondria, the tiny energy generators in each cell of your body. Healer Omar offers various natural products online for any illness and pain.
EGP (executive golf promotions) started its roots in 1998. The focus was on corporate golf days and golf tours. Successful corporate golf days were put together where the professional businessman, golfer and rugby player had the chance to interact on a social level and to show off their skills on the golf course. From there it developed into getaway packages for golfers and soon Omar realised that there was another market that could be explored in a different way. In 2005 Omar started practising as a Healer and rebranded the company to name it SOULCARE.SOULCARE – Caring for the soul.
From there the name SOULCARE RETREATS.

Meaning: Retreat what you are doing, to recharge and rejuvenate the soul, to fuel the mind and body with renewed energy. Omar Botha believes it is healthier for a human to take regular short breaks to relax and recharge the mind, body and soul than to work oneself to death. If a person works non-stop for too long a period it may cause emotional, physical and mental fatigue that can lead to various illnesses and depression.

Omar believes in Balance and to achieve that he recommends taking time out every 5-6 weeks. Take a day or 2 off form the daily tasks and explore something that you always wanted to do. Today Soulcare Retreats can offer the client various packages from car rental, flights, accommodation, golf tours, cruises and even organic food and wine getaways.
Soulcare Retreats also focus on the corporate market for conferencing and other travel arrangements.
Who's Online
We have 140 guests and no members online