GETTING THERE
To get you started, you must first make your way to Sandakan.
BY AIR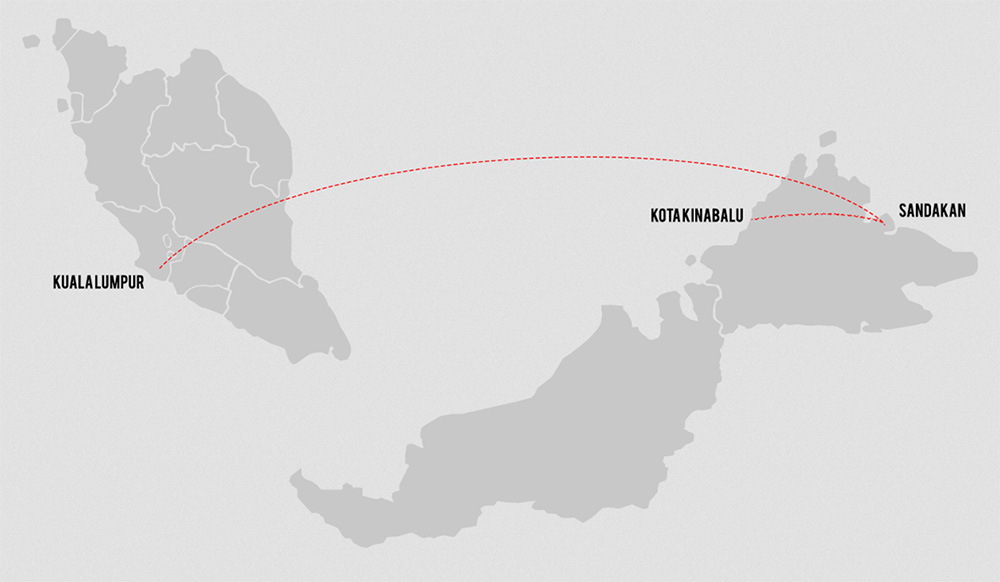 You can fly into Sandakan city through Sandakan Airport, which is located 15 kilometres away from the city centre. There are regular flights to and from Kota Kinabalu and Kuala Lumpur. The main carriers are Malaysia Airlines and Air Asia. The flight from Kota Kinabalu to Sandakan will take you 45 minutes, while from Kuala Lumpur 2 hours and 45 minutes. We recommend that you take the following flights into Sandakan:
| | | | |
| --- | --- | --- | --- |
| Flight No. | Departs From (Direct Flights to Sandakan SDK) | Departure Time | Arrival Time |
| MH 2042 MALAYSIA AIRLINES | KOTA KINABALU (BKI) | 0700HRS | 0740HRS |
| AA 6492 AIR ASIA | KOTA KINABALU (BKI) | 0700HRS | 0750HRS |
| MH 2710 MALAYSIA AIRLINES | KUALA LUMPUR (KUL) | 1030HRS | 1315HRS |
| AK 5198 AIR ASIA | KUALA LUMPUR (KUL) | 0625HRS | 0915HRS |
BY BUS
If you choose not to fly, you can always take the bus from Kota Kinabalu to Sandakan using several operators such as Bunga Raya Express, Sida Express and Tung Ma Express. The journey will take approximately 6 hours and we strongly recommend that you take the bus only when you are not in a hurry and have time to spare, as it would be ideal to arrive Sandakan one day before your tour commence.
Once you have arrived in Sandakan, you can make your way to Sukau Rainforest Lodge via:
Boat
Overland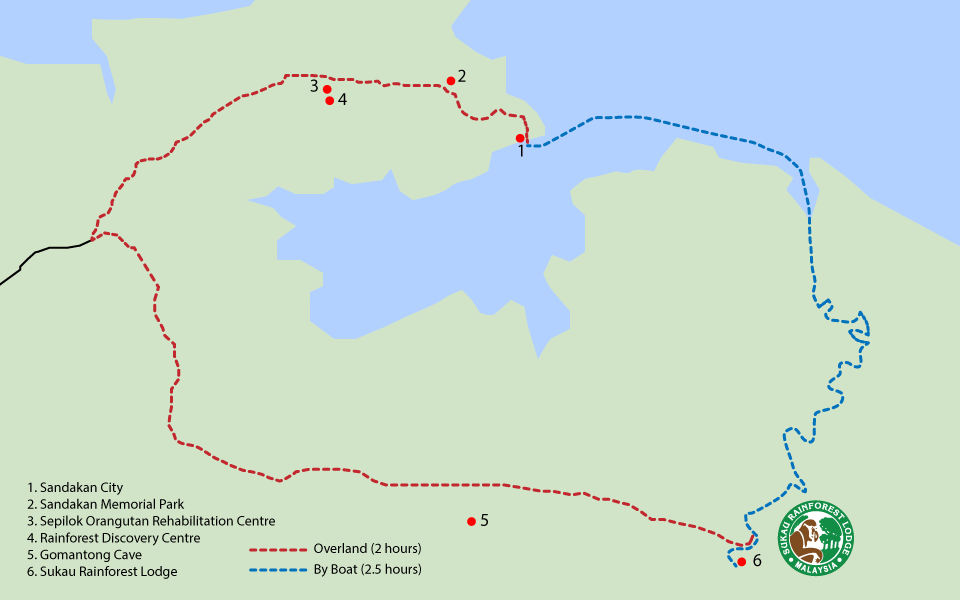 BY BOAT
At 1300hrs, you will depart for Sukau Rainforest Lodge from Sandakan Yacht Club, which is 15 minutes away from Sandakan Airport. The boat ride will take approximately 2.5 hours. As you cruise through the beautiful Kinabatangan River, you may see some of Borneo's rare and endangered species including the Bornean pygmy elephants, orangutans and proboscis monkeys.
OVERLAND
The overland trip from Sandakan to Sukau covers 135 kilometres where 42 kilometres is on gravel road passing through palm oil plantations. The journey will take approximately 2 hours including a short 5 minutes boat ride from Sukau jetty to Sukau Rainforest Lodge.
ELECTRICY & LIGHTING
Since mid 2016, all of our 20 rooms have now equipped with energy saving inverter air-conditioners. Due to inadequate supply of electricity from the grid, the air-conditioners will be operational during the day from 10:30am to 4:30pm, during which the lodge will run on diesel generators.
Our Lodge was completely self-reliant for energy from 1995 and was not connected to the grid until 2008. Due to the high cost of solar technology and maintenance, we use government electrical supply for 12 hours daily with back up from our in-house generators for our power demand.
At night lighting is supplied by kerosene oil lamps in the garden and along the corridors. Additionally, recycled cooking oil lamps are used in the restaurant and lounge area to provide a cozy ambience. We use energy saving bulbs in all rooms
All hot water is supplied by 4 units of solar hot water heaters throughout the year.
We encourage our guests to switch off the lights and ceiling fans when not in their rooms.
We adopt an open concept in the Gecko Lounge, Gomantong Hall, and Melapi Restaurant to allow for unrestrained air circulation and ventilation, minimizing energy usage and maximizing day time cooling.
WATER USAGE
Our Lodge is also 100% self-sufficient on water. Rainwater is harvested, filtered, and chlorinated for kitchen and guest use.
Hot water is supplied by 4 units of 78.69 gallons of Crystal solar heating systems.
We encourage our guests to conserve water by minimizing flushing the toilet and turning off the taps when brushing, shampooing, or soaping. All toilets are equipped with dual flush systems.
We do not replace towels and linens unless requested by guests.
DISPOSAL SYSTEM
Our Lodge is equipped with septic tanks and nothing is discharged into the river. Organic materials are composted while non bio-degradable materials are separated and returned to Sukau for disposal and recycling.
Guests are asked to help us and dispose of rubbish in the appropriate bins labelled cans, bottles, and plastic, all of which are located at the open deck.
Guests are also advised to minimise the usage of plastic bottles by getting drinking water from the water dispenser we provide free of charge, instead of buying bottled water.
NOISE
Much thought has gone into minimising the noise level at Sukau Rainforest Lodge and on the river cruises in order for guests to experience nature's symphony in the rainforest. This was part of our decision to adopt an open concept at the lounge area and restaurant. For these reasons we do not encourage the use of television and radio.
Our boats for river boat ride to the Lodge and river safari tours are equipped with outboard engines and electric motors (Evinrude E-TEC and Yamaha Portable Outboard Engine ) which meet the world's most stringent emission standards of the European Union and the US Environmental Protection Agency (EPA) to provide additional comfort to passengers, minimizing noise and air pollution and to reduce stress to the wildlife.
SAFETY & CLEANLINESS
For your own safety, wear a life jacket at all times when on your river cruises.
Smoking and burning of any materials is prohibited inside your room. Charging of commercial/TV batteries is also prohibited in your room. Fire extinguishers are located along the verandahs outside your rooms.
Do not eat foods, sweets, or drink beverages in your room as this will attract insects.
DESIGN AND CONSTRUCTION
The Lodge is built 100ft away from the river bank (except for Melapi Jetty) and outside the riparian reserve to prevent storm water soil erosion. Native vegetation is left intact to provide natural shade, to minimize impact of noise, and provide maximum privacy to the in-house guests.
The Lodge is built on stilts five feet above ground to minimize impacts of annual flooding of the Kinabatangan River and keep insects, animals, and reptiles out of the rooms. Hornbill boardwalk is built on stilts and is covered for added protection from falling rotting branches. The two elephant passes (unique to SRL) provided along the boardwalk were built to allow for the migration of Borneo Pygmy elephants through the property.
Passive cooling design and exhaust fans installed to extract hot air above ceilings to enhance indoor thermal comfort of the Lodge with low energy consumption.
An open concept is adopted for the Gecko lounge, Gomantong Hall, and Melapi restaurant to allow for unrestrained air circulation and ventilation, thus minimizing the use of fans.
The Lodge is built with local hardwood species, including Belian (Borneo ironwood), for stilts and pillars. Belian, Merbau and Selangan Batu for open decks and balconies; Nyatoh for room furniture and fixtures.
LOCAL COMMUNITY PARTICIPATION
If possible we try to provide employment opportunities for the local community. The jetty, plank walks, open deck, wall panelling, wooden benches, and deck tables/chairs are all testimony of their capabilities.80% of our staff are locals. Senior staff were recruited from outside to transfer their skills to the locals and to help provide consistent services. Most of the local staff could not speak English when they joined us. In response we have instituted training and brought in overseas tourism student interns to help them understand different cultures and needs of the tourists, to develop communication skills, and speak English. A few staff has been sent for nature guide training. We hope we have trained them to run the Lodge to your expectations and maximized their natural ability as wildlife spotters for the river cruises and jungle walks.
The management also encourages ongoing personal development including book reading and a mentoring program that provides leadership training for local staff.
Your patience and encouragement for any shortcomings will go a long way in helping the staff to overcome shyness, language, and cultural barriers.
COMMUNITY & ENVIRONMENT PROJECTS
Since 2000 our community and environmental profit society, Sukau Ecotourism Research and Development Centre SERDC (renamed Borneo Ecotourism Solutions and Technologies BEST Society), has organized many projects. That include supplying over 90 water tanks to local families, three medical camps, and the ongoing Kinabatangan Wildlife Corridor Rehabilitation Project (KWICORP).
Sukau Rainforest Lodge and Borneo Eco Tours contribute RM4.00 and RM8.00 respectively for every international guest (totalling RM50, 000.00/ USD 16,400 annually) who stays at the lodge in addition to contribution from guests. We started collecting RM 20.00 per guest as conservation levies in 2009; this goes towards the Kinabatangan Corridor of Life Tourism Operators Association (KiTA) and BEST Society to enhance conservation along the Kinabatangan.
As of December 2015, Sukau Rainforest Lodge has contributed RM 564,051.08 (32%) out of total RM 1,780,702.51 to implement community and environmental projects under our non-profit BEST Society.Details of donations and projects are available from the Lodge Manager or on our website at www.bestsociety.org .
EDUCATION & INTERPRETATION
An information gallery on the local flora and fauna has been set up to provide education for in-house guests, additionally, our naturalist guides can provide additional interpretation of the rainforest around the Hornbill Boardwalk. A self guided booklet and free handbook on Kinabatangan Floodplain is also available in the room. Information about Conservation Fellows who have contributed to the conservation of the Kinabatangan region is also available in the room. A free pictorial colour guide of wildlife of Sabah is also made available to all guests.
Additional information is available in our publication "Saving Paradise - The Story of Sukau Rainforest Lodge".